Banana Coconut Walnut Muffins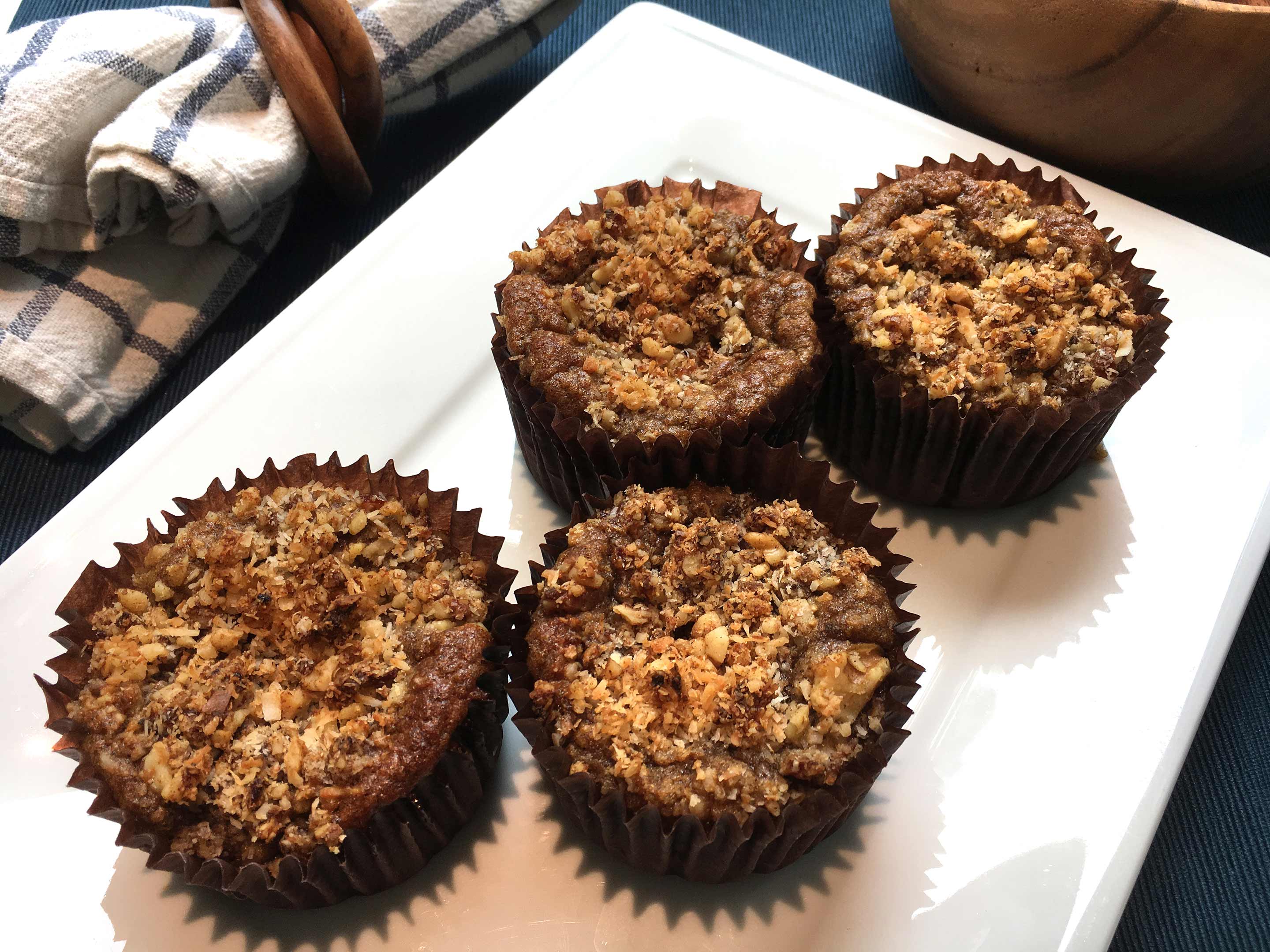 Prep Time

15 min

Cook Time

30 min

Total Time

45 min

Yield

10-12 large muffins
Ingredients
Date Paste
1-1/2 cups pitted medjool dates, chopped
3/4 cup water
6 tbsp ghee
Streusel Mix
2 tsp cinnamon
1 cup chopped walnuts
1 cup shredded unsweetened coconut
Muffins
5 ripe bananas
3/4 cup almond butter
5 eggs
1-1/2 tsp vanilla extract
1-1/2 cup almond flour
1-1/2 tbsp cinnamon
1-1/2 tsp baking soda
1-1/2 tsp baking powder
1/4 tsp sea salt
Preparation
Date Paste
1
Rough chop dates.
Add dates and water  to a small saucepan. Bring to a simmer.
Remove from heat, add ghee, cover and let stand for 10 minutes.
Using a hand blender, puree the date mixture until smooth.
Streusel Mix
2
Place finely chopped walnuts, coconut and cinnamon in a small bowl.
Mix well to combine.
Muffin
3
Preheat oven to 325 degrees F.
Prepare muffin tins with paper liners (recipe makes 12 jumbo muffins).
Place date paste, bananas, almond butter and vanilla in the bowl of a stand mixer and blend until smooth.
Add the eggs and mix well.
In a separate bowl, combine the dry ingredients (almond flour, cinnamon, baking soda, baking powder, and sea salt.
Reserve 1/2 cup of the streusel mix for topping the muffins. Add the rest to the batter.
Add dry ingredients to the wet and blend until well combined.
Fill each muffin cup with about 1/2 cup of batter and top with streusel topping (a #8 scoop disher works well for this).
Sprinkle the remaining 1/2 cup of streusel mix on the tops of each muffin.
Bake for 30-40 minutes until toothpick come out clean.
Remove from oven and let cool on a wire rack.