Coconut Macaroons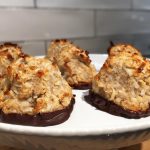 Prep Time

20 min

Cook Time

25 min

Total Time

45 min

Yield

18 macaroons
Ingredients
Macaroon
20 dates
1 can full-fat coconut milk (13.5 oz)
4 cups shredded unsweetened coconut
4 large egg whites
1/4 tsp salt
1/2 cup coconut flour
Chocolate Layer
1 cup dark or semi-sweet chocolate
Note:
Use a Paleo-friendly chocolate chip such as "Enjoy-Life" brand.
Preparation
Macaroons
1
Pure dates, salt and coconut milk in a blender.
Combine shredded coconut, coconut flour, egg whites and coconut milk mixture in a bowl. 
Mix until well blended.
Cover and refrigerate for 15 min.
Preheat oven to 350 F.
Using a #20 disher scoop (3-1/2 tbsp), portion out mounds of dough on a silpat or parchment paper lined baking sheets.
Use your hands to shape each scoop of the mixture into an even mound and slightly narrower at the top.
Bake for 25 min until lightly golden brown.
Let cool for 5 minutes.
Move to rack and cool completely.
Chocolate Layer
2
Melt chocolate in a double boiler or in the microwave. If using a microwave, heat and stir in 30 second intervals until completely melted and smooth.
Coat the bottoms of each macaroon and place on a silpat or parchment lined baling sheet.
Let chocolate set before transferring to a serving plate.
If you prefer smaller macaroons use a mini ice cream scoop or two spoons to portion out mixture. Bake until lightly golden brown.