Cottage Pie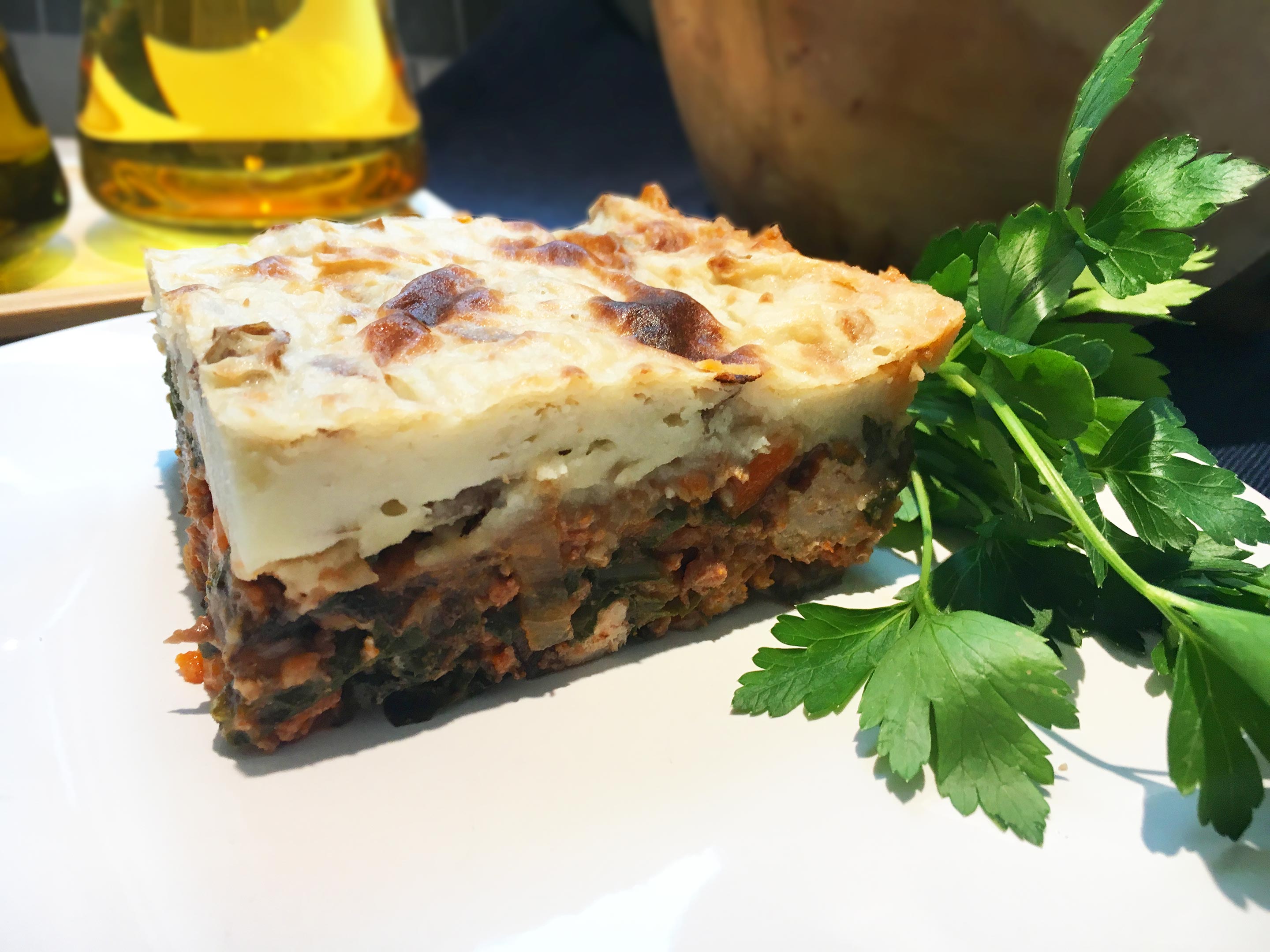 Prep Time

25 min

Cook Time

35 min

Total Time

1 hr

Yield

8-10 Servings
Ingredients
Beef & Turkey Layer
2 tbsp avocado or olive oil
2 tbsp ghee
2 large yellow onions, sliced
8 carrots, peeled and sliced
6 cloves garlic, peeled and minced
24 oz baby bella or button mushrooms, cleaned and quartered
1 lb ground beef
1 lb ground turkey
1-1/2 + 1/2 tsp sea salt, divided
1/2 tsp ground black pepper
1 tsp onion powder
1 tsp ground ginger
6 oz tomato paste
1 cup beef bone broth
4 oz full-fat coconut milk (remainder of can from potatoes)
2 bunched tuscan kale (approx 10 oz)
salt and pepper to taste, if desired
Mashed Potato Layer
2-1/2 lbs russet potatoes
8 cloves garlic, peeled
1 + 1/2 tsp sea salt, divided
1 cup full-fat coconut milk
2 tbsp ghee
salt and pepper to taste, if desired
Preparation
Mashed Potato Layer
1
Fill pot large enough to boil potatoes 3/4 of the way with cold water.
Chop potatoes into 1 inch cubes and add to pot of cold water.
Add garlic cloves.
Add 1 tsp salt.
Bring to a boil and then simmer for 10-15 min until fork tender.
With a slotted spoon, transfer to bowl of electric mixer. Reserve cooking liquid.
Mix until well mashed.
Add salt, ghee and coconut milk.
Mix until smooth.
Add salt and pepper to taste.
Beef & Turkey Layer
2
Add ghee and oil to a large sauté pan and heat.
Add onions and carrots and saute until onions are translucent and carrots begin to soften.
Season with 1/2 tsp salt.
Stir in garlic and heat through, being careful not to burn garlic.
Add mushrooms and cook for 5-10 min, stirring occasionally until start start to brown and release water.
Add ground turkey and beef. Stir occasionally until liquid begins to evaporate and meat starts to brown.
Stir in tomato paste.
Add broth and remaining coconut milk. Cook until liquid begins to evaporate and thicken.
Transfer to a 9 x 13 baking dish and top with mashed potatoes.
Bake 30 – 40 minutes until bubbling and top begins to brown.
Let rest for 10 minutes before serving. 
Note: Start by preparing all ingredients. Then begin boiling the potatoes. As they cook, prepare the beef & turkey layer.