Grilled Chicken with Artichokes & Lemons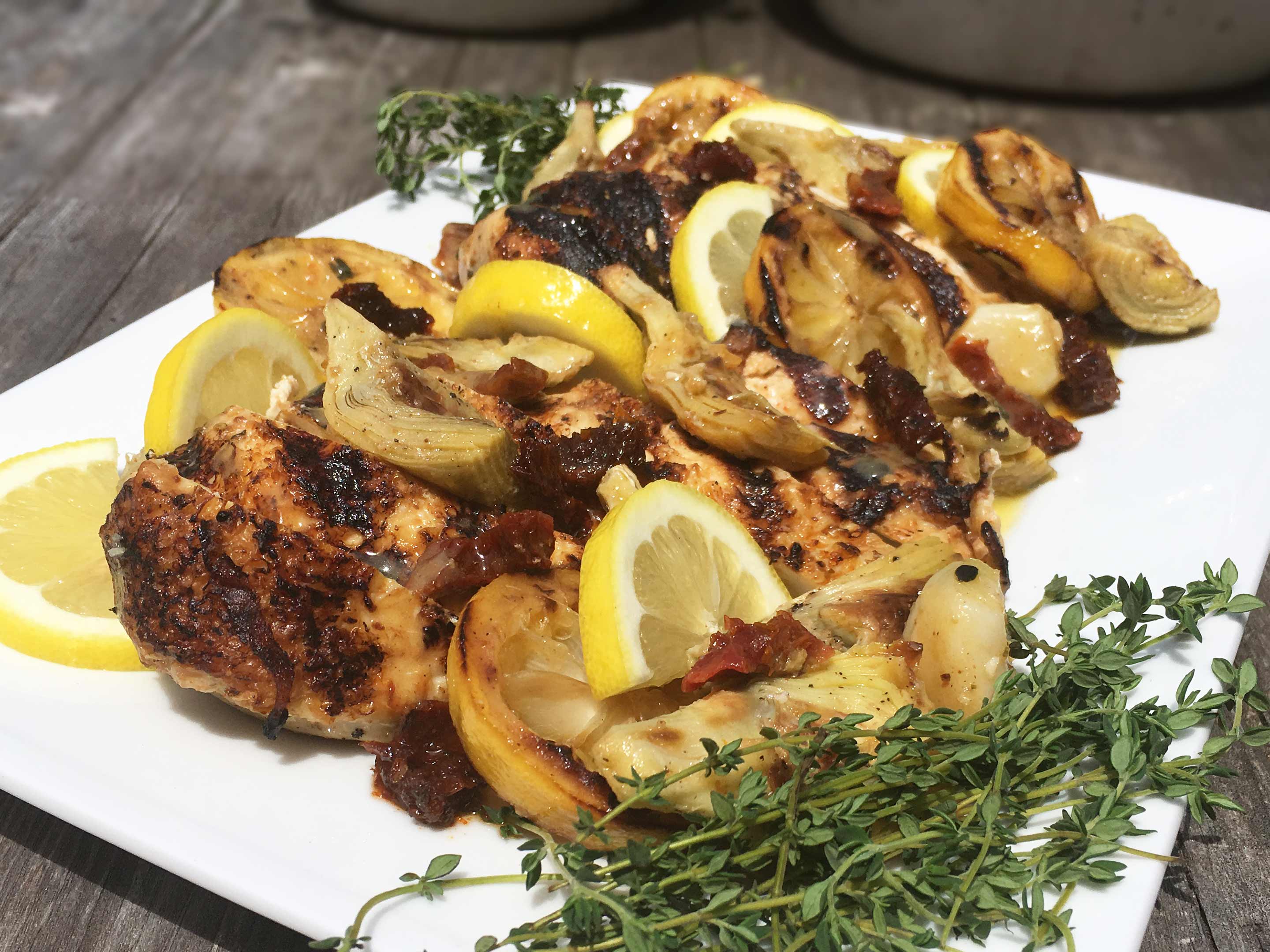 Prep Time

20 min

Cook Time

25 min

Total Time

45 min

Yield

Serves 10-12
Ingredients
Lemon Dressing
1/2 cup freshly squeezed lemon juice
1-1/2 cup olive oil
1 tsp sea salt
1/2 tsp black pepper
1/4 tsp dried Italian seasoning
4 medjool dates. finely chopped
Grilled lemons
4 lemons, sliced
1 tbsp olive oil
Roasted Artichokes
24 oz frozen artichoke hearts, thawed
6 cloves garlic, peeled
2 tbsp olive oil
1/4 cup sundried tomatoes, chopped
Grilled Chicken
8 chicken breasts
2 tsp sea salt
1 tsp black pepper
1/2 tsp smoked paprika
1/2 tsp dried Italian seasoning
2 tbsp olive oil
Preparation
Lemon Dressing
1
Add all ingredients to a blender and puree until smooth.
Grilled Lemons
2
Drizzle olive oil over sliced lemons.
Grill 2-3 min on each side until slightly charred.
Remove from grill and set aside.
Roasted Artichokes
3
Preheat oven to 400 F.
Place thawed artichoke hearts and garlic on a baking sheet.
Drizzle with olive oil.
Season with salt and pepper to taste.
Bake for about 20 minutes until they start to brown.
Remove from oven, toss with sundried tomatoes and set aside.
Grilled Chicken
4
Preheat grill to high.
Trim any excess fat from chicken breasts.
Season with salt, pepper, smoked paprika, and Italian dressing.
Drizzle with olive oil to coat.
Grill 5-10 minutes per side until chicken is cooked through.
Remove from grill and let rest for 10 minutes.
Assembling the Dish
5
Slice chicken breasts into 1/2 thick pieces.
Place in a large oven-safe platter or baking dish.
Drizzle lemon dressing over chicken breasts and toss to coat well.
Toss in artichokes, sundried tomatoes, and grilled lemons.
Drizzle a little more dressing over the dish.
Can be served immediately or kept warm in a 170 F oven. 
If desired, serve with additional slices of fresh lemons.