Honey Peanut Granola Bars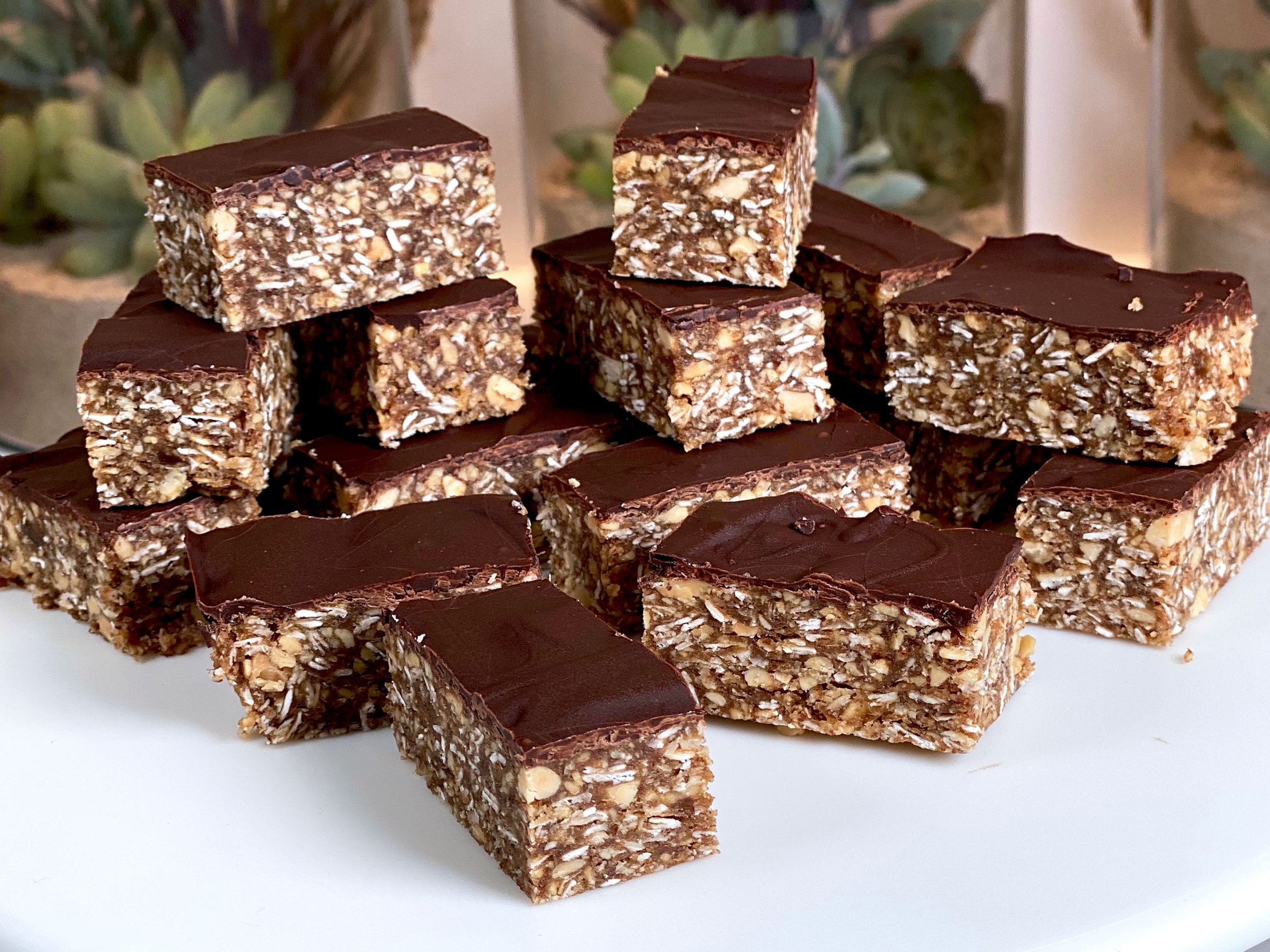 Prep Time

15 min

Total Time

45 min

Yield

32 Bars
Ingredients
Date Purée
24 pitted dates
1/4 cup water
1/2 cup peanut butter
1/4 cup honey
Granola Ingredients
2 cups oats
1-1/2 cups roughly chopped salted peanuts
1/2 cup ground flax seeds
1/4 tsp sea salt
Chocolate Topping
1/2 cup of dark chocolate chips
Preparation
Date Purée
1
Place the dates in a bowl, pour 1/4 cup of boiling water over over them and let them soften for five minutes. You can also place the dates and water in a microwave-safe bowl, cover and microwave on high for one minute before letting them rest.
Purée the dates and water with an immersion blender or small-bowl food processor.
Stir the peanut butter and honey into the date purée.
Granola Ingredients
2
Place the granola ingredients in the bowl of a stand mixer fitted with a paddle attachment. 
Mix for a minute or two until all the ingredients are combined.
Add the date puree and mix until well combined. The mixture will be slightly sticky.
Assembly
3
Use a 9″x9″ silicone pan or a metal pan lined with overhanging parchment or cling wrap for easy removal.
Press the mixture into the pan and flatten the top using the back of a spatula.
Melt the chocolate using a double boiler or in the microwave. If using a microwave, melt the chocolate in 30 second intervals, stirring between intervals until smooth.
Pour the melted chocolate over the granola and smooth it out into a thin even layer.
Place the pan in the freezer for 30 minutes to allow the mixture to set up.
After 30 minutes, remove from the pan and cut into bars with a sharp knife. We usually cut them into 36 bars. If you prefer, you can cut them into fewer larger bars! 
4
Store the bars in an airtight container and refrigerate. They can be frozen, then taken out to thaw for a few minutes before eating. We find that keeping them in the freezer slows us down from eating the entire batch.