Roasted Chicken Sweet Potato Curry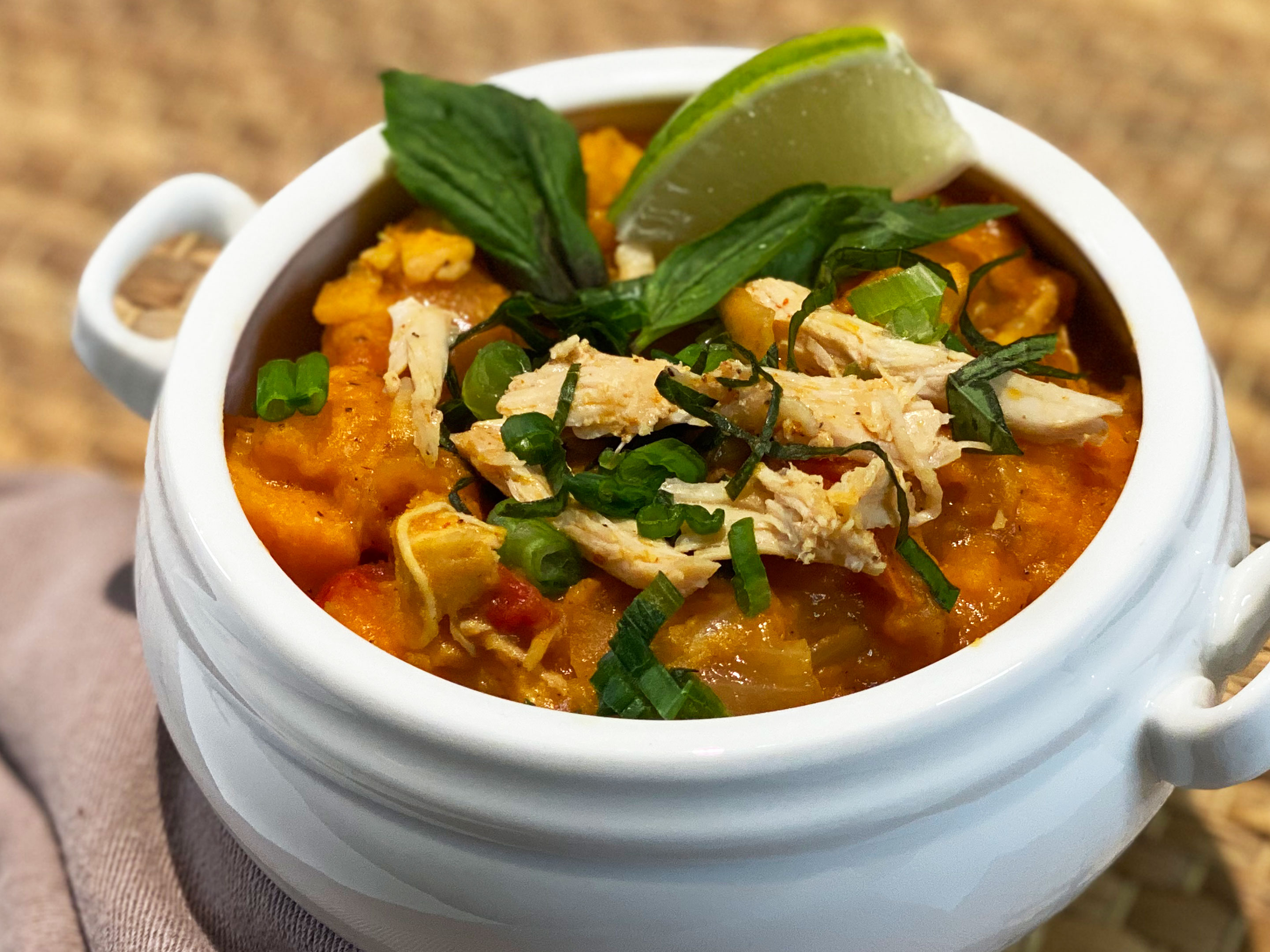 Prep Time

15 min

Cook Time

45 min

Total Time

1 hr

Yield

Serves 6-8
Ingredients
Roasted Chicken
4-5 boneless chicken breasts or thighs (about 3 lbs)
2-3 tbsp avocado oil
1 tsp sea salt
1/2 tsp ground black pepper
1/2 tsp smoked paprika
1/2 tsp cumin
Sweet Potato Curry
2 lbs sweet potatoes
2 medium yellow onions
3 cloves garlic, chopped
1 jalapeno, chopped
3 tbsp avocado oil
2 tsp sea salt
1-1/2 tsp ground ginger
1-1/2 tsp cumin
1 tsp smoked paprika
1/2 tsp ground black pepper
2 limes, juiced
Garnish
8 lime wedges
1/4 cup chopped basil
1/4 cups chopped scallions
Preparation
Roasted Chicken
1
Preheat the oven to 350 degrees F.

Combine the seasoning in a small bowl.

Coat the chicken with the avocado oil, then sprinkle the seasoning mix over the chicken.

Place the chicken on a rimmed baking pan and roast in oven for about 15-20 minutes or until done. Check for an internal temperature of 165 degrees F or cut a piece to make sure it is cooked through.

Let chicken rest 5 minutes.

Shred the chicken, reserving about a cup to use as garnish.
Sweet Potato Curry
2
Slice the onions.
Chop the sweet potatoes into medium cubes (about 1 inch)
Add 3 tbsp avocado oil to a Dutch oven.

Heat the oil and sauté the onions on medium heat until they soften and begin to turn translucent.

Add 

the sweet potatoes and stir to combine.

Covered the pot and cook for approximately 15 minutes, stirring occasionally, until the sweet potatoes begin to softened.

Add the jalepeno, garlic and seasonings.

Stir and cook for 5 minutes until fragrant.

Add coconut milk and diced tomatoes.
Simmer for 20 minutes to reduce and thicken the sauce.
Add the lime juice and most of the shredded roasted chicken to the pot (reserve the 1 cup of chicken for garnish). Stir to combine. 
Serve in bowls and 

garnish with a few pieces of shredded chicken, scallions, basil and a lime wedge. 
Notes
3
This dish can be made the night before, reheated, and garnished before serving.
To simplify this dish, use leftover roasted chicken, or a good quality organic rotisserie chicken.