Roasted Rainbow Cauliflower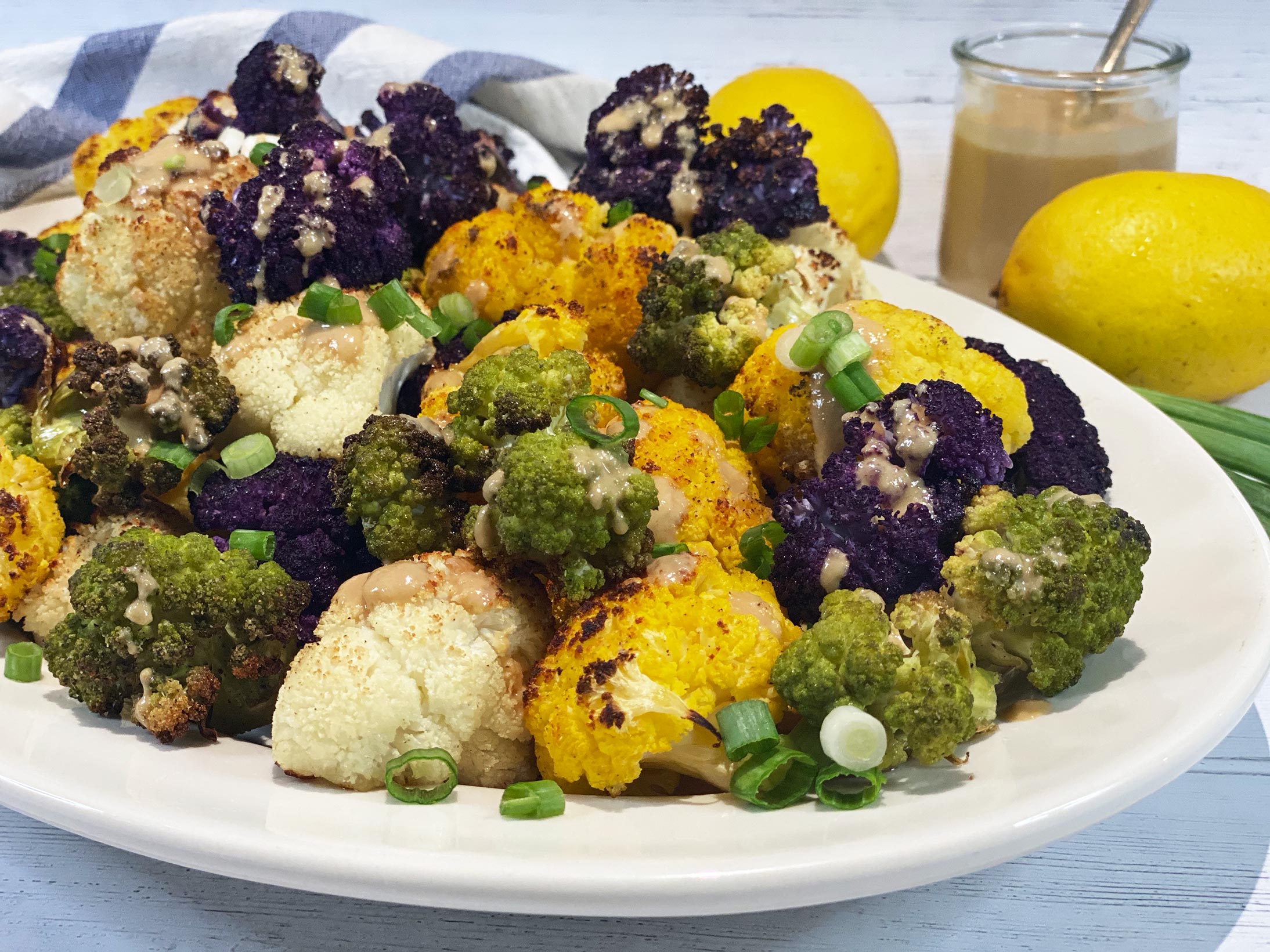 Prep Time

15 min

Cook Time

25 min

Total Time

40 min

Yield

4-6 servings
Ingredients
Cauliflower
1 medium head purple cauliflower
1 medium head orange cauliflower
1 medium head green cauliflower
1 medium head white cauliflower
1/4 cup olive oil
2 tsp sea salt
1/2 tsp ground black pepper
1/2 tsp onion powder
1/2 tsp garlic powder
2 scallions for garnish
Tahini Dressing (optional)
1/4 cup tahini
1/4 cup coconut aminos
1/4 cup freshly squeezed lemon juice
1/4 tsp sea salt
1/4 tsp garlic powder
Preparation
Cauliflower
1
Preheat oven to 425 degrees F.
Remove green leaves from cauliflower and discard.
Cut heads of cauliflower into medium sized florets and rinse. 
In a small bowl, mix together the seasoning.
Slightly grease two baking sheets with olive oil and divide the cauliflower between the two pans. You don't want to crowd them.
Drizzle olive oil over the florets and gently toss to coat.
Sprinkle seasoning over the florets and toss again to coat. Arrange the cauliflower so that the florets are facing up.
Place both pans in the oven.
Slice the scallions into rings and set aside for garnish.
Roast for 25-30 minutes, swapping the pans half way through the cooking time.
Remove the florets from the oven as soon as they begin browning and are fork tender.
Transfer to a serving plate and garnish with sliced scallions.
If using, drizzle some of the tahini dressing over the cauliflower.
Tahini Dressing (optional)
2
In a small bowl, whisk together the tahini, coconut aminos, and lemon juice.
Add the salt and garlic powder and mix well.
Adjust seasoning to taste.
If you would like a thinner dressing, add a tablespoon of water.