Sausage & Cabbage Sheet Pan Dinner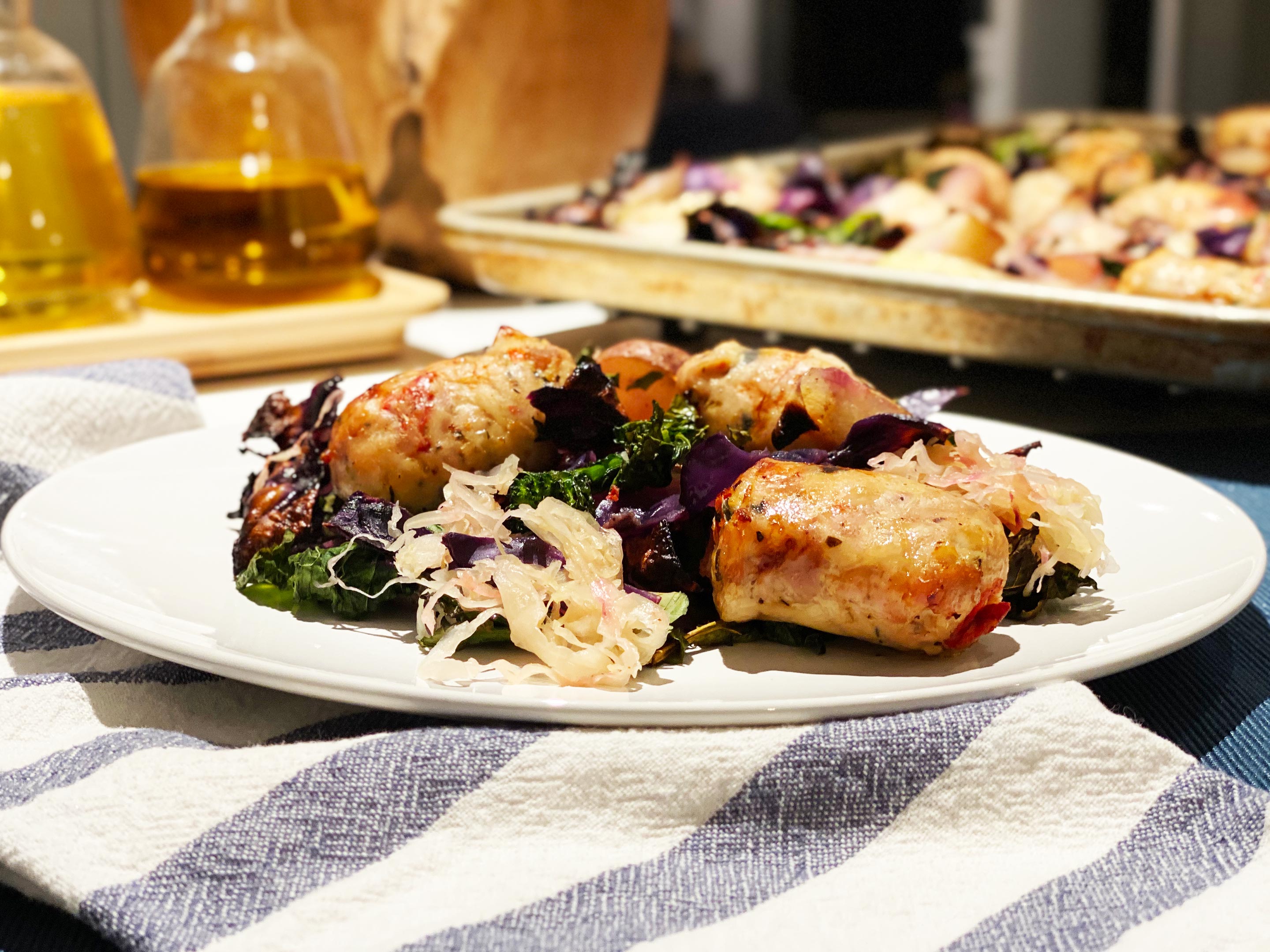 Prep Time

15 min

Cook Time

45 min

Total Time

1 hr

Yield

8 servings
Ingredients
6 medium red potatoes
8 links of chicken sausage (or pork)
2 medium onions
1 medium head red cabbage
1 bunch broccoli rabe or kale
1 cup sauerkraut
4 tbs olive oil
1 tsp salt
1 tsp onion powder
1 tsp garlic powder
1/2 tsp ground black pepper
1/4 tsp smoked paprika
Preparation
1
Preheat the oven to 400 degrees F.
Rinse the broccoli rabe, remove the thick stems. Cut into large pieces and set aside.
Lightly grease two rimmed baking sheets with olive oil.
Wash the potatoes, dry and chop into 1 inch cubes.
Cut the onions into medium slices.
Rinse off the cabbage, cut into quarters and remove the core. Then shred the cabbage into strips about 1/2 inch wide.
Divide the vegetables (except the broccoli rabe) between the two pans, drizzle with olive oil, add the seasoning and toss to combine.
Cut each sausage into 3-4 pieces, depending on size, and add to the pan.
Roast for 30 minutes.
After 30 minutes, remove from the oven and toss the sausage and vegetables so that they brown evenly. 
Add the broccoli rabe and return to the oven swapping the upper and lower pan positions.
Roast for 10-15 more minutes until the sausages and potatoes brown.
Check the sausage for doneness.
Add the sauerkraut, toss, and return to the oven for 5 minutes longer.