Savory Sauced Baked Pasta & Peas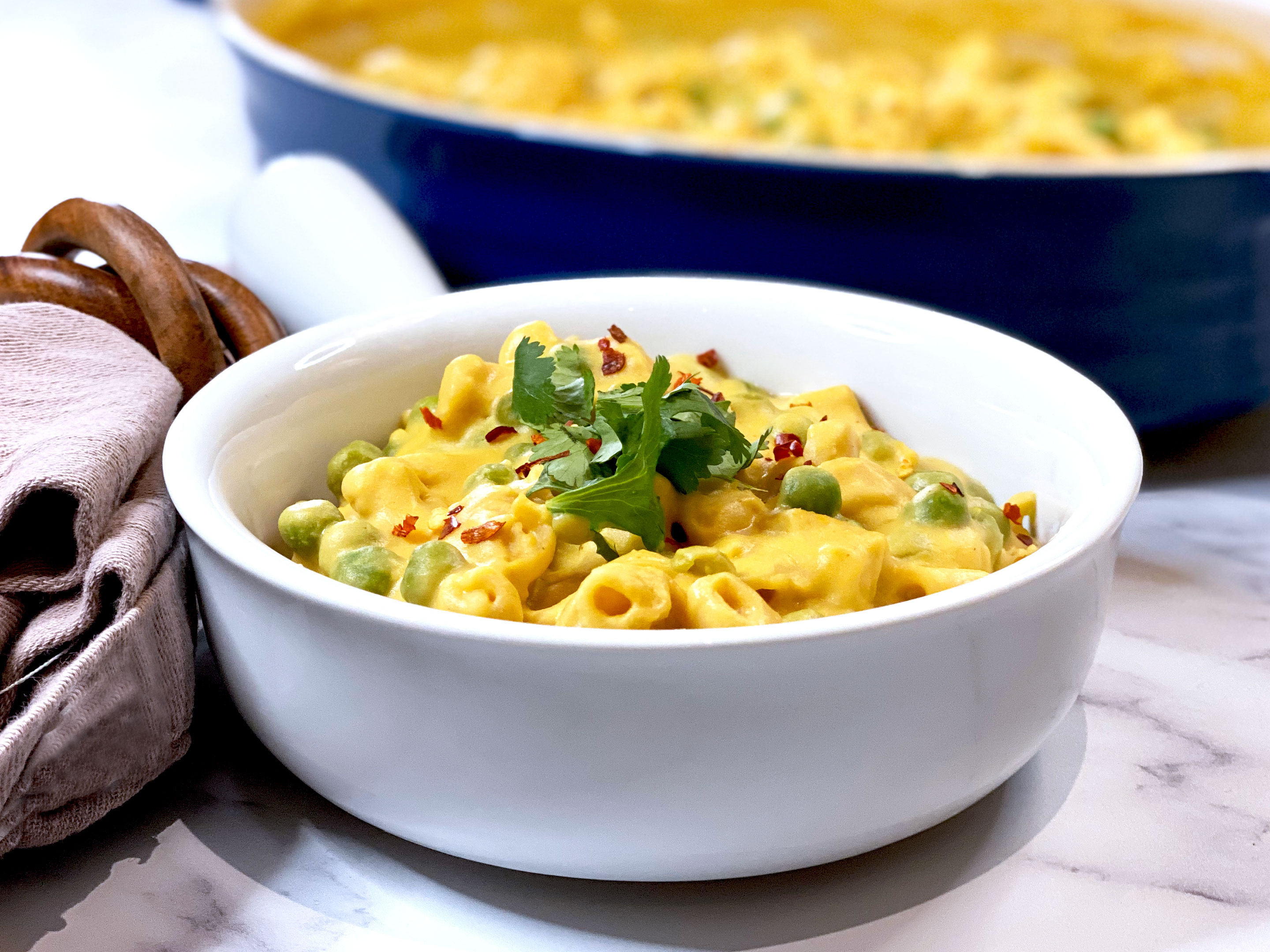 Prep Time

10 min

Cook Time

35 min

Total Time

45 min

Yield

4-6 servings
Ingredients
Sauce
1 lb butternut squash, chopped
1 can full-fat coconut milk (15 oz can)
1/3 cup nutritional yeast
1/8 tsp ground nutmeg
1/2 tsp onion powder
1/2 tsp garlic powder
1 tsp salt
Pinch cayenne to taste
4 tbsp lemon juice
1 cup water
Pasta
1 lb gluten-free pasta (elbows, shells or any other shape you prefer). Use a favorite pasta that meets your dietary preferences.
4 cups frozen peas
Fresh parsley and red pepper flakes for serving (optional)
Notes:
We used frozen butternut squash because it's already chopped and cooks quicker when making the sauce.
If you prefer not to bake the pasta, this recipe can be adapted for the stovetop — reduce the water in the sauce to 1/2 cup and boil the pasta until al dente. Once the pasta is ready, drain the pasta and toss with the peas and sauce.
Preparation
Sauce
1
Chop the butternut squash into small cubes. We've used frozen or packaged chopped butternut squash to save time.
Add the butternut squash and coconut milk to a saucepan, bring to a boil, then reduce to a simmer.
Add the seasonings, stir, and simmer for about 10 minutes until the squash is tender. Note that fresh butternut squash will take a bit longer to cook than frozen squash.
Puree the sauce using an immersion blender. (If using a traditional blender, puree the sauce in batches being very careful as you blend the hot liquid.)
Add the water and lemon juice to the sauce and stir until incorporated and smooth.
Adjust seasoning to taste.
Pasta
2
While making the sauce, bring a pot of water to boil for the pasta.
Preheat the oven to 350 degrees F.
Parboil the pasta for 5 minutes. This will depend of the pasta used. We typically cook the pasta for half the recommended cooking time on the directions.
Drain the pasta and add to a 9" x 13"  baking dish.
Add the peas, pour the sauce over the pasta, and gently mix to combine.
Cover the baking dish with foil and bake for 20 minutes.
Check the pasta for doneness. The sauce should be bubbling and the pasta cooked to your desired tenderness. If it need a little more time, cover and return to the oven for another 5-10 minutes.
If you prefer the top to be slightly browned, uncover and let bake for 5 minutes longer.
Serve with chopped parsley and rep pepper flakes (optional).