Sheet Pan Sausage Sweet Potatoes & Asparagus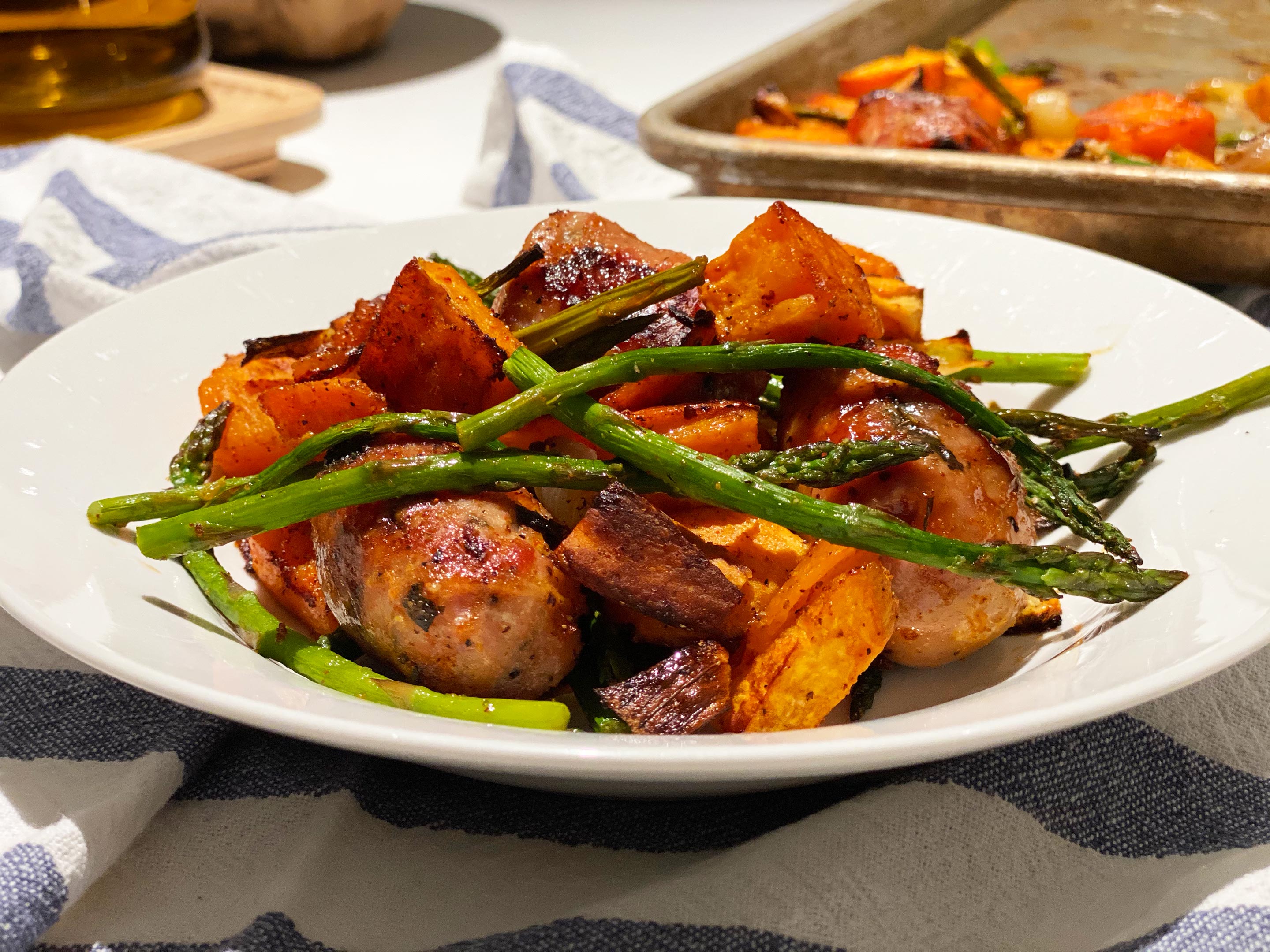 Prep Time

10 min

Cook Time

40 min

Total Time

50 min

Yield

4-6 servings
Ingredients
1 lb asparagus
3 large sweet potatoes
1 large onion
6 links sausage (chicken or pork)
3 tbsp olive oil
1 tsp salt
1 tsp onion powder
1 tsp garlic powder
1/2 tsp ground place pepper
1/4 tsp smoked paprika
Preparation
1
Preheat the oven to 400 degrees F.
Lightly grease a rimmed baking sheet with 1 tbsp olive oil.
In a small bowl, combine the seasonings.
Wash the asparagus, trim off the woody ends. Drizzle a little olive oil on the asparagus, sprinkle with a little seasoning and set aside.  
Wash and peel the sweet potatoes. Cut the potatoes into cubes about 1-1/2 inches in size and place on the baking sheet.
Peel the onion and cut into large wedges. Add the onion to the baking sheet.
Drizzle olive oil over the vegetables, add the remaining seasoning and toss to combine.
Cut the sausage into pieces about 2 inches in length and add to the pan.
Roast for 20 minutes. 
After 20 minutes, remove the pan from the oven and toss the sausage and vegetables so that they cook evenly.
Add the asparagus and return the pan to the oven for 20 minutes more. If the asparagus are very thin, only roast them for the final 10 minutes of cooking time.
Check for doneness by cutting open a piece of sausage to see that it is cooked through.