Spaghetti Squash Chicken Tetrazzini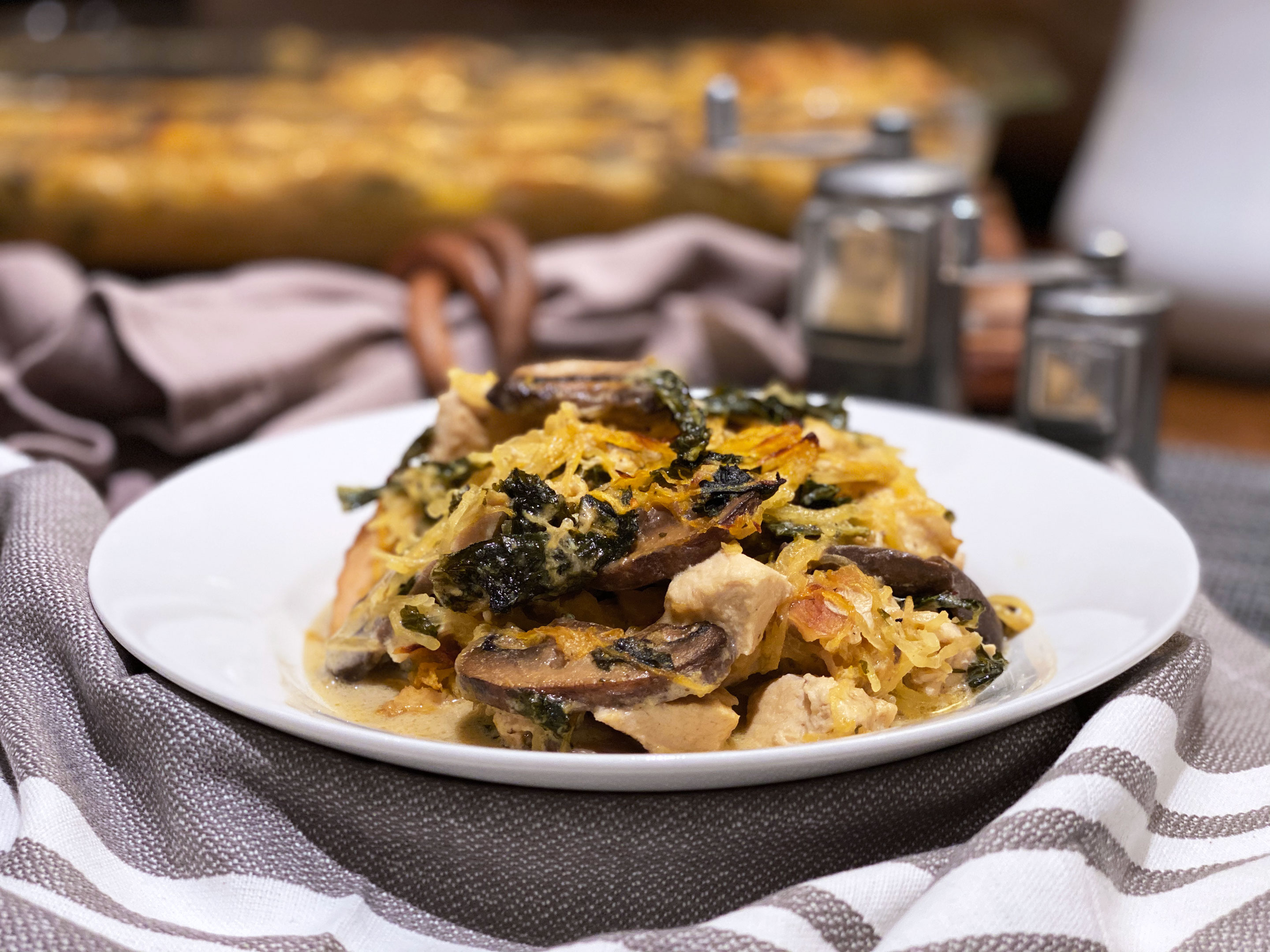 Prep Time

30 min

Cook Time

1 hr

Total Time

1 hr 30 min

Yield

8 servings
Ingredients
Spaghetti Squash
2 medium spaghetti squash
2 tbsp olive oil
1 tsp salt
1/2 tsp ground black pepper
Cooked Chicken (4 cups cubed)
This is a great way to use leftover chicken
A 3 lb rotisserie chicken should yield about 4 cups
Or roast 1-1/2 lbs of skinless chicken breasts
Also works well with turkey
Chicken Tetrazzini
2 tbsp olive oil
2 tbsp ghee
1 lb cremini mushrooms
2 cloves garlic
3 cups chopped kale (about 1 small bunch)
1/2 tsp salt
1/2 tsp garlic powder
1/2 tsp onion powder
2 cans full fat coconut milk (13.5 oz cans)
2 cups low sodium chicken broth
1/2 cup nutritional yeast
1 tbsp tapioca starch
1/2 lemon, juiced
chopped parsley to garnish
Preparation
Spaghetti Squash
1
Preheat the oven to 400 degrees F.
Wash the spaghetti squash and cut each in half lengthwise. Cut carefully.
Using a large spoon scrap out the seeds.
Drizzle flesh side of squash with olive oil, then season with salt and pepper. 
Place the squash, flesh side down, on a lightly oiled rimmed baking sheet.
Bake for 30 minutes.
After 30 minutes take the squash out of the oven and test for doneness. Using a fork, you should be able to scrape the squash into strands. If not yet done, place back in the oven for another 5-10 minutes. Since this will be baked again, it is better to slightly undercook the squash so it won't be mushy.
When done, remove from the oven and set aside.
Lower the oven to 350 degrees F.
When squash is cool enough for you to handle, use a fork to scrape out all of the squash onto the rimmed baking pan, breaking apart the strands.
Set aside for later.
Chicken Tetrazzini
2
While the squash is cooking, prepare the chicken tetrazzini.
Cut the chicken into cubes and set aside.
Wash the mushrooms, remove the dry woody ends and slice.
Wash the kale, remove the woody stems, and rough chop the leaves.
Heat the olive oil and ghee in a large pan or dutch oven.
Add the mushrooms and sauté for about 4 minutes until they soften.
Add the garlic and cook for about minute until fragrant, being careful not to burn the garlic.
Add the kale leaves and cook until wilted, about 2-3 minutes.
Mix in the seasoning and stir to combine.
Add the coconut milk and chicken broth to the pan. 
Bring the mixture to a simmer, then lower the heat and let reduce for about 15 minutes stirring occasionally.
Add the nutritional yeast, lemon juice and stir to combine.
Place the tapioca starch in a small bowl and add stir in some of the cooking liquid to make a slurry. Add the slurry to the pan and mix well. The sauce should start to thicken.
Add the chicken and spaghetti squash to the pan. Mix to combine, separating the squash as you stir.
Taste and adjust season to taste.
Place the mixture into a 9 x 13 baking dish and bake for 30 minutes until bubbling and slightly brown on top.
Garnish with chopped parsley and serve.