Spaghetti Squash & Meatballs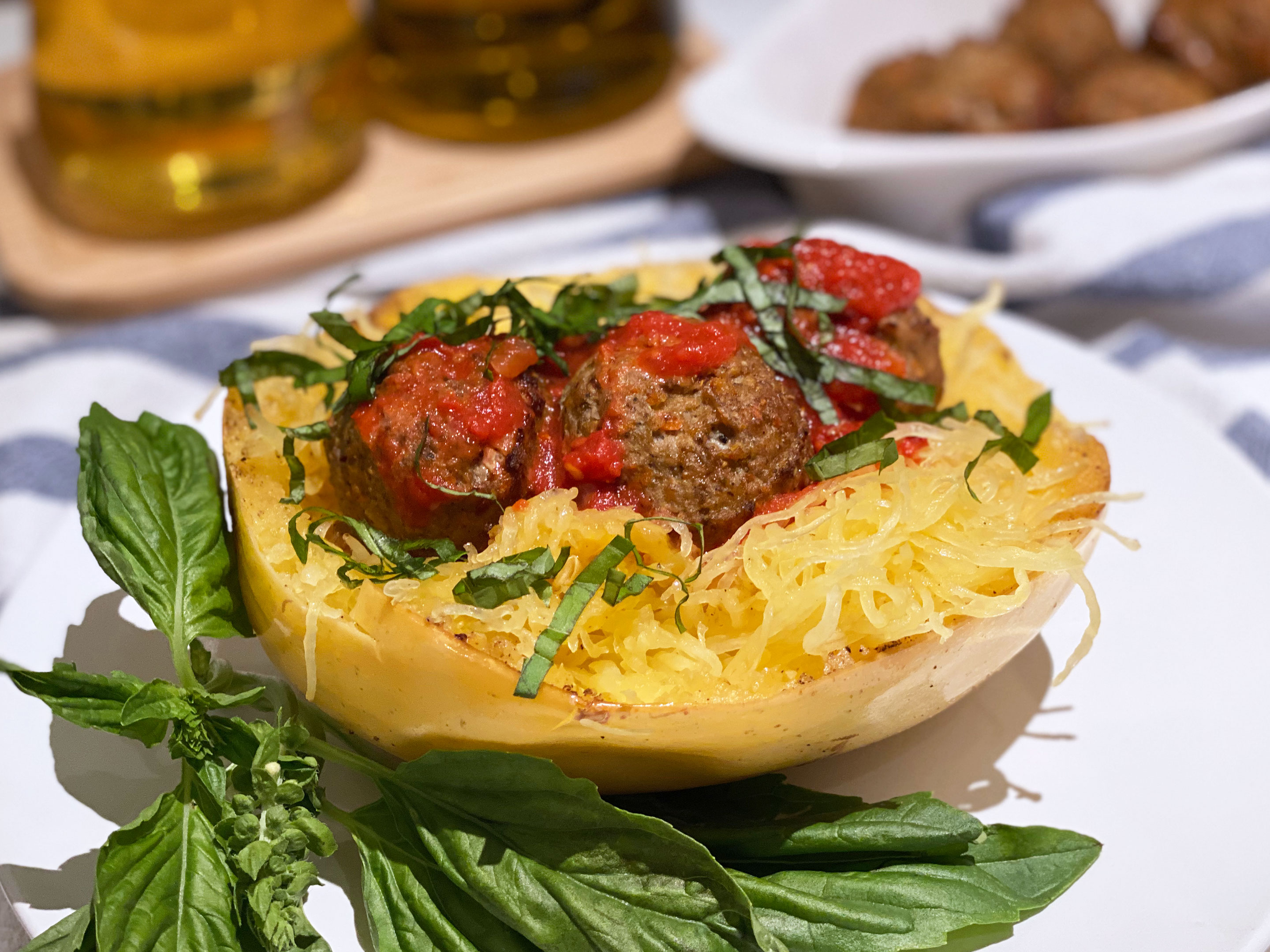 Prep Time

30 min

Cook Time

1 hr

Total Time

1 hr 30 min

Yield

6 servings
Ingredients
Turkey Meatballs
2 lbs ground turkey
1 cup carrots, chopped (3-4 carrots)
1 cup onion, chopped (1 large onion)
8 oz cremini mushrooms, chopped
3 cloves garlic
2 tsp Italian seasoning
1 tsp salt
1 tsp ground cumin
1/2 tsp ground black pepper
1/2 tsp smoked paprika
1/2 tsp onion powder
1/2 tsp garlic powder
1/2 tsp red pepper flakes (1/4 tsp for less spice)
3 tbsp olive oil
3 tbsp coconut aminos
Sauce
1/2 small onion, finely chopped
1 clove garlic, finely chopped
1/2 tsp Italian seasoning
1/4 tsp red pepper flakes
1 tbsp olive oil
1 can crushed tomatoes (28 oz can)
Salt and ground black pepper to taste
Spaghetti Squash
3 medium spaghetti squash
3 tbsp olive oil
1-1/2 tsp salt
3/4 tsp ground black pepper
Fresh basil, chopped
Notes:
The meatballs can be made in advance and reheated. The recipe makes about 30 meatballs so you'll have extra for another meal.
The spaghetti squash can be kept warm in a 200 degree F oven and assembled before serving.
If you like a lot of sauce, double the sauce recipe.
Preparation
Turkey Meatballs
1
Preheat the oven to 400 degrees F.

Line two rimmed baking sheet with parchment paper.

Place the ground turkey in a large mixing bowl.

Place the remaining ingredients in a food processor and pulse until finely chopped.  Don't over process.

Add the chopped vegetables to the turkey and gently mix together. Try not to compact the mixture.

Use an ice cream scoop or #20 disher (approx. 3-1/2 tbsp) to form the meatballs. Note that the mixture will be soft, so we like to use a #20 disher and drop the mixture right on a lined rimmed baking sheet  — no rolling needed or messy hands. 

Drizzle the meatballs with a little olive oil.

Bake for 35-40 minutes until golden brown. Check for doneness. 
Sauce
2
Add the olive oil to a saucepan.
Sauté the onion on medium heat until translucent.
Add the garlic, Italian seasoning and red pepper flakes to the pan. Sauté for about 1 minute until fragrant.
Add the can of tomatoes, stir and let simmer for 15 minutes.
Adjust seasoning to taste with salt and black pepper
Spaghetti Squash
3
Preheat the oven to 400 degrees F.
Wash the spaghetti squash and cut each in half lengthwise. Cut carefully.
Using a large spoon scrap out the seeds.
Drizzle flesh side of squash with olive oil, then season with salt and pepper. 
Place the squash, flesh side down, on a lightly oiled rimmed baking sheet.
Bake for 30 minutes.
After 30 minutes take the squash out of the oven and test for doneness. Using a fork, you should be able to scrape the squash into strands. If not yet done, place back in the oven for another 5-10 minutes. Residual heat will continue to cook the squash. It is better to slightly undercook the squash so it won't be mushy.
When done, remove from the oven and set aside to cool a little.
Hold the squash with a dishtowel and use a fork to scrape the squash into strands resembling spaghetti. Leave the spaghetti in each half of the squash. Using the squash as a bowl make a nice presentation. 
To serve, top with sauce, meatballs, and chopped basil. Depending on dietary preferences, garnish with a "cheese" of your choosing.