Spicy Turkey Stuffed Mushrooms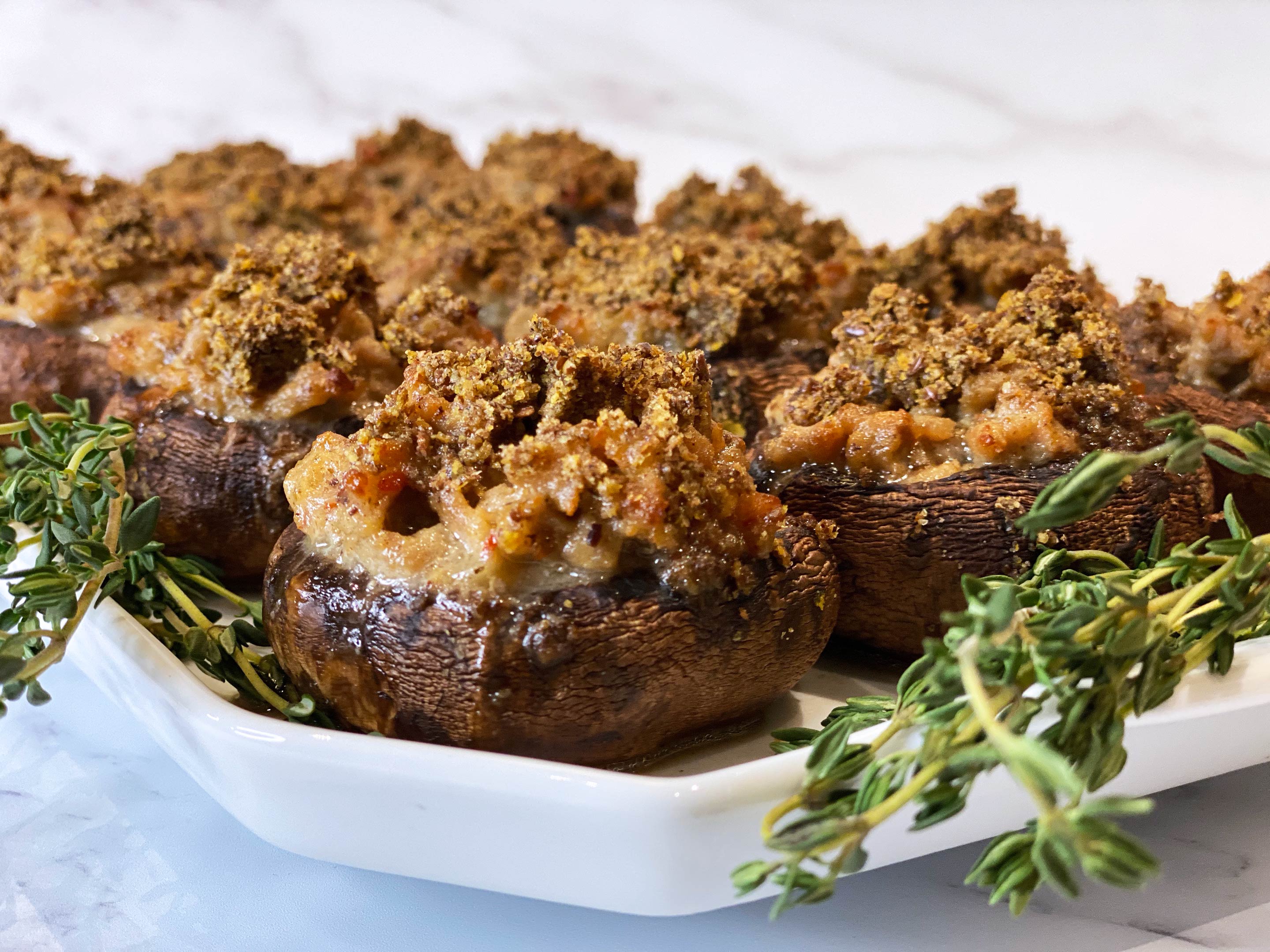 Prep Time

15 min

Cook Time

45 min

Total Time

1 hr

Yield

18-24 mushroom caps
Ingredients
Filling
1 lb ground turkey
1 small onion
4 madjool dates
1 tbsp ghee
1 tbsp olive oil
1 tsp salt
1/2 tsp ground black pepper
1 tbs onion powder
1 tsp garlic powder
1/4 tsp dried sage
1/4 tsp red pepper flakes (optional or use less)
1 can full fat coconut milk (13.5 oz can)
2 tbsp cold water
1 tbsp tapioca starch
Mushrooms
1.5 lbs cremini mushrooms (about 18-24)
1 tbsp nutritional yeast
3 tbsp ground flax seeds
2 tbsp olive oil (divided)
Preparation
Filling
1
Combine the salt, pepper, onion powder, garlic powder and sage in a small bowl.
Finely chop the dates and set aside.
Finely the chop onions.
Add the ghee and olive oil to the pan and sauté the onions on medium heat until softened, about 2-3 min.
Push the onions to the side of the pan and add ground turkey.
Reserve 1 tsp of the seasoning and add the remaining seasoning to the pan.
If using, add the red pepper flakes.
Brown the meat about 5-8 min, break it up into small pieces as it cooks. Mix in the onions as the meat cooks. The ground turkey should be broken into rather small pieces in order to stuff the mushrooms.
Add the dates and combine.
Pour in the coconut milk, raise heat and bring to a slight boil.
Reduce heat and let simmer for about 10 min until sauce thickens.
Mix 1 tbsp tapioca with 2 tbsp water to make a slurry.
Slowly add the slurry to the pan while stirring.
Cook for about 5 min, stirring occasional until the mixture is quite thick and the liquid has evaporated.
The filling mixture can be made a day ahead and refrigerated until ready to stuff the mushrooms.
Mushrooms
2
Preheat the oven to 350 degrees F.
Clean mushrooms, remove the stems and using a small spoon, scrape out any brown gills. 
In a small bowl, combine the flax seeds, nutritional yeast, remaining seasoning and 1 tbsp oil. Mix well to combine.
Grease a rimmed baking sheet with 1 tbsp of olive oil.
With a small spoon, add the mixture into the mushroom caps and sprinkle the tops with a little bit of the flax seed topping.
Bake for 20-25 minutes until the mushrooms are soft and the top slightly browns.