Turkey & Mushroom Stuffed Acorn Squash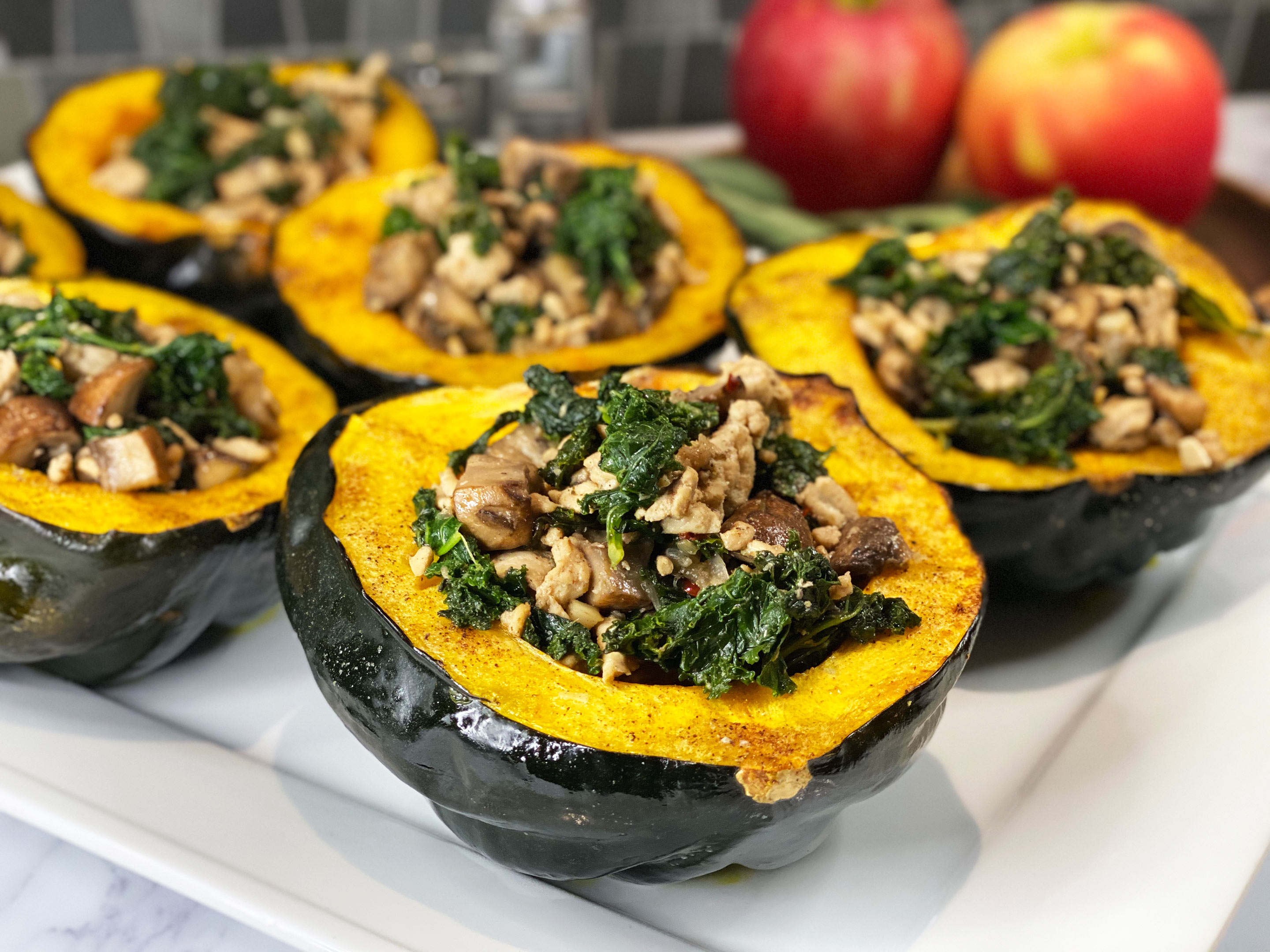 Prep Time

15 min

Cook Time

30 min

Total Time

45 min

Yield

Serves 6
Ingredients
Acorn Squash
3 acorn squashes
1/2 tsp sea salt
1/4 tsp ground black pepper
1/4 tsp cinnamon
2 tbsp olive oil
Turkey Mushroom Filling
1 medium onion
1 lb cremini or baby bella mushrooms
3 large garlic cloves
1 honeycrisp apple
1 bunch kale
1 lb ground turkey
2 tbsp olive oil
1 tsp sea salt
1/2 tsp ground black pepper
1/2 tsp Italian seasoning
1/4 tsp cinnamon
1/4 tsp red pepper flakes
Preparation
Roast the Squash
1
Preheat oven to 400 degrees F.
Wash each squash, cut

 in half, and scrape out the seeds.

In a small bowl combine the salt, pepper and cinnamon.
Lightly coat each squash half with a little olive oil and dust each with the seasoning mix.
Place on a greased baking sheet, facing up.
Bake for 30-40 minutes until a knife easily pierces the flesh of the squash.
Prepare the filling while the squash bakes
2
Chop the onions, mushrooms, garlic and apples.
Add the olive oil to a pan large enough to hold all the ingredients.
On medium heat, sauté the onions until softened and slightly translucent.
Add the ground turkey to the pan and break it up into pieces.
As the turkey begins to brown, season with the salt, pepper, Italian seasoning, cinnamon, and red pepper flakes.
Add the garlic and cook slightly unit fragrant. You don't want to burn the garlic.
Once the turkey is cooked through, place the mushrooms and apples to the pan. Stir occasionally until the mushrooms are cooked and start to brown.
Add the kale a little at a time and stir to combine. As the kale wilts into the mixture, add the rest of the kale.
Taste the filling and adjust the seasoning to taste.
Assemble the Dish
3
Remove the cooked squash from the oven and reduce the oven to 325 degrees F.
Carefully spoon the turkey mushroom filling into each squash half.
Return to the pan to the oven and bake for 10 minutes more.
Notes:
4
The filling can be made a day ahead, cooled and stored in the refrigerator.
Heat the filling through while the squash bakes and then assemble the dish.
This dish holds well in a 250 degree F oven so you can enjoy some time with your guests before dinner.