Turkey & Mushroom Stuffed Peppers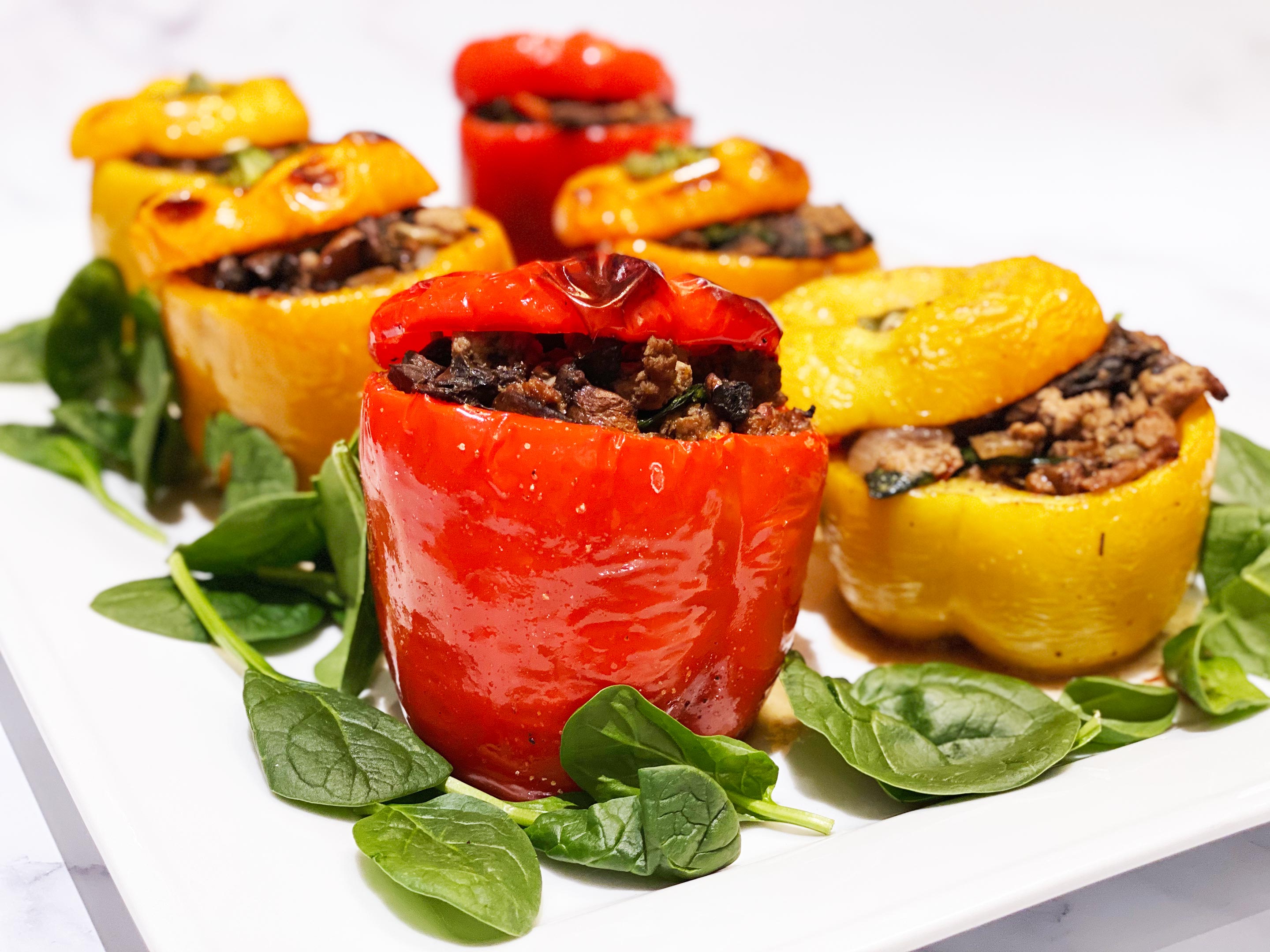 Prep Time

15 min

Cook Time

1 hr

Total Time

1 hr 15 min

Yield

6 servings
Ingredients
Turkey & Mushroom Stuffing
1 small onion, chopped
1 lb ground turkey
1-1/2 lbs baby bella mushrooms
3 cups fresh spinach
1 tsp salt
1/2 tsp ground black pepper
1/2 tsp onion powder
1/2 tsp garlic powder
1/2 tsp smoked paprika
1/2 tsp Italian seasoning
2 tbsp olive oil
Peppers
6 bell peppers
1 tbsp olive oil
Salt and ground black pepper
Notes
The stuffing can be made a day ahead and refrigerated until ready to stuff the peppers.
Preparation
Turkey & Mushroom Stuffing
1
Mix seasoning in a small bowl.
Wash the mushrooms, remove woody stems and chop into medium-sized pieces.
Add 2 tbsp olive oil to a pan and saute the onions on medium heat for about 5 minutes until translucent.
Add the ground turkey and half of the seasoning mixture to the pan.
Cook the turkey for about 5-6 minutes until it starts to brown, breaking up the pieces as it cooks.
Add the mushrooms, remaining seasoning, and toss to combine.
Reduce to medium heat, cover, and let simmer for about 3 minutes until the mushroom give up their liquid.
Uncover, stir, and continue cooking to reduce the liquid (about 5 minutes).
Add the spinach and stir until just wilted.
Peppers
2
Preheat the oven to 375 degrees F.
Wash the peppers and trim a little off the bottom so that they sit up without tipping over. Cut off as little as possible trying to avoid cutting a hole in the bottom of the pepper.
Cut off the top to make a lid.
Drizzle a little olive oil over the peppers to lightly coat the outside. 
Sprinkle a little salt and ground pepper on each pepper to season it inside and out. 
Place the peppers in a lightly oiled baking dish and stuff each pepper with the filling.
Place the lids on top and cover with foil.
Bake for 30 minutes covered.
Remove the foil and bake for 15 minutes longer until the peppers are tender. If the tops start to brown, place the foil back over them and continue to bake until tender.