Turkey & Veggie Skillet Dinner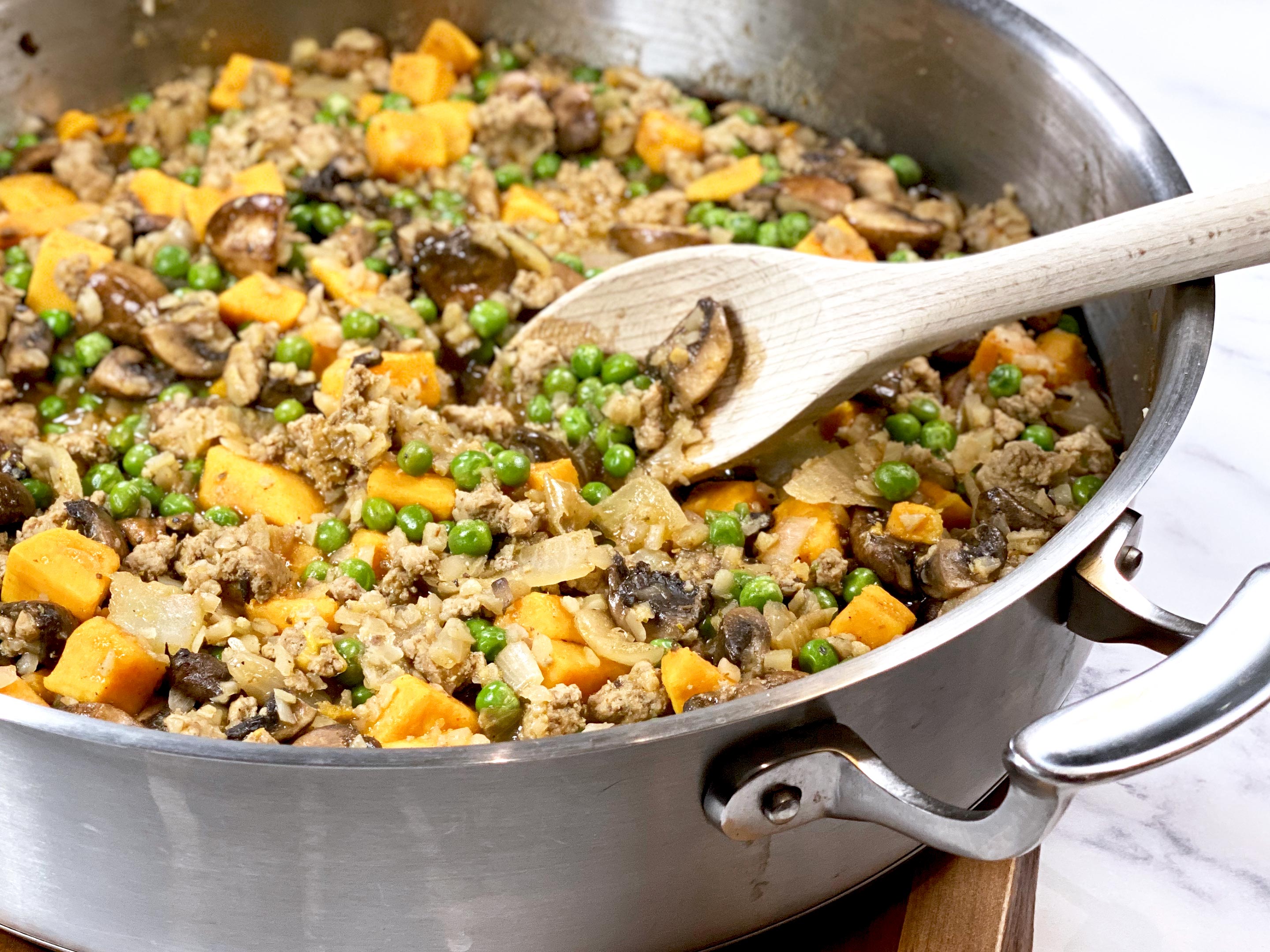 Prep Time

10 min

Cook Time

30 min

Total Time

40 min

Yield

8-10 servings
Ingredients
1 large sweet potato
1 large onion, chopped
1 lb ground turkey
1-1/2 lbs baby bella mushrooms
3 tsp salt
1 tsp ground black pepper
1 tsp onion powder
1 tsp garlic powder
1 tsp smoked paprika
1 tsp Italian seasoning
3 tbsp olive oil
1 cup chicken broth
3 cups frozen peas
4 c cauliflower rice
1 tbsp tapioca starch
1 tbsp water
Preparation
1
Mix the seasoning (except the tapioca starch) in a small bowl.
Wash, peel, and chop the sweet potato into 1/2" cubes.
Add 2 tbsp olive oil to a large skillet.
Sauté the sweet potatoes and onions on medium heat for about 7-10 minutes until tender. Stir occasionally to cook evenly. The onions should be translucent and the sweet potatoes tender.
Raise the heat to medium high. Add the ground turkey remaining 1 tbsp of olive oil, and half of the seasoning mixture to the pan.
Cook the turkey for about 5 minutes until it starts to brown, breaking up the pieces as it cooks. 
Add the mushrooms, remaining seasoning, and toss to combine.
Reduce to medium heat and let simmer for about 5 minutes until the mushroom give up their liquid. Stir occasionally to evenly brown the mushrooms.
Add the chicken stock, peas, and cauliflower to the skillet. 
Raise the heat and bring to a simmer. Stir occasionally and let cook for about 5 minutes until everything is heated through.
In a small bowl, combine 1 tablespoon of tapioca starch with 1 tbsp of water to make a slurry.
Add the slurry to the skillet and mix to combine. Let cook for about 2 minutes longer to thicken the sauce.