Elderberries may be best known for their ability to combat flu viruses and respiratory ailments.  Elderberries are rich in the flavonoid quercetin, which is believed to account for most of the therapeutic properties of the berry.
When symptoms of flu arise, natural healers and health conscious individuals turn to the elderberry to work its magic on stubborn viruses.  The elderberry has been treasured for its medicinal properties since the days of Hippocrates, and this powerful berry was even used 1995 to treat a flu epidemic in Panama.
Providing Respiratory Relief
If you are looking for an effective defense against ailments like coughs, colds, and bronchitis, our Organic Elderberries may provide the support that you need. Elderberries have been shown to relieve allergies and hay fever, soothe a sore throat, combat sinusitis, lower fever, and treat emphysema.
Full-Spectrum Healing
Elderberries offer full-spectrum support for a variety of health conditions. Our Dried Elderberries are often used as a gentle laxative, and have a correcting effect on mild diarrhea. Many other illnesses, such as high cholesterol, cardiovascular disease, and viral and bacterial infections can be eased with the consumption of our Dried Elderberries.
This super berry is a wonderful source of tannins, amino acids, carotenoids, and Vitamins A and B. The high Vitamin C content in elderberries accounts for the strong antioxidant properties that can protect against cell damage.
Are Elderberries Poisonous?
There are many species of elderberries grown around the world, and most species are, surprisingly, poisonous. However, the fully ripe berries of the European Eldeberry (Sambucus nigra), which is exactly what we sell, are not poisonous.  Before consuming, these berries should be boiled down into a syrup, as they do contain low levels of naturally occurring toxins. By boiling, the toxins are completely removed, leaving a safe, toxin-free syrup that is high in antioxidants, and highly beneficial for the immune system.
Possible Benefits
While much research is still being conducted, some of the possible health benefits of our Organic Elderberries may include:
Used for centuries by traditional healers to treat colds and fevers
Studies show that it contains anti-inflammatory properties
May be beneficial in helping to maintain proper cholesterol levels
Helpful in supporting a healthy immune system
May increase metabolic unction
May be effective in healing and preventing infections
Traditionally used as a diuretic or laxative
Studies indicate that it contains many anti-inflammatory benefits
May be effective in relieving arthritis
Beneficial in improving vision
May be effective against bacterial and viral infections
Beneficial in treating sinus infection
Article and recipe courtesy of Sunburst Superfoods.
Elderberry Syrup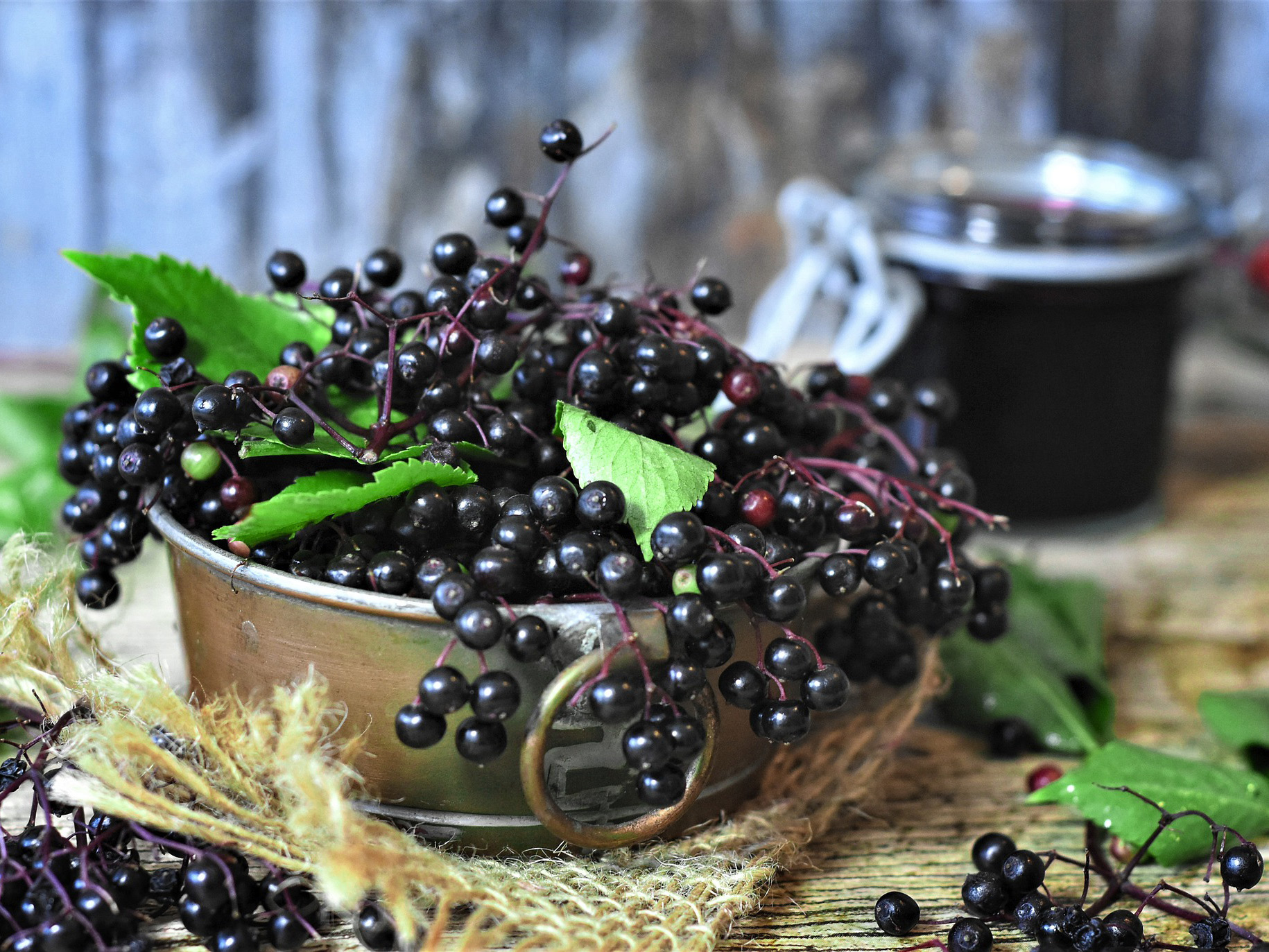 Ingredients
3 quarts of Water
2 Cups of Dried Elderberries
2 Sticks Cinnamon
1/2 tsp Peppercorns
1-2 tsp Cloves
2" piece of Ginger (Chopped or Grated)
1/2 Cup honey (more if you desire)
Preparation
1
Combine all of the above ingredients in a pot (except the honey)
Bring to a boil, reduce heat, cover and simmer for 1/2 hour or so.
Strain the mixture into a bowl, add 1/2 to 1 C. Add honey while warm so it will blend well.
Place in a glass jar or bowl and store in the refrigerator.
Use 1-2 tsp a day to kick that cold! 
Use in your tea, or take a 1-2 teaspoons a day to kick that cold!
Before consuming, elderberries should be boiled down into a syrup, as they do contain low levels of naturally-occurring toxins. By boiling, the toxins are completely removed, leaving a safe, toxin-free syrup.