Teriyaki Grilled Chicken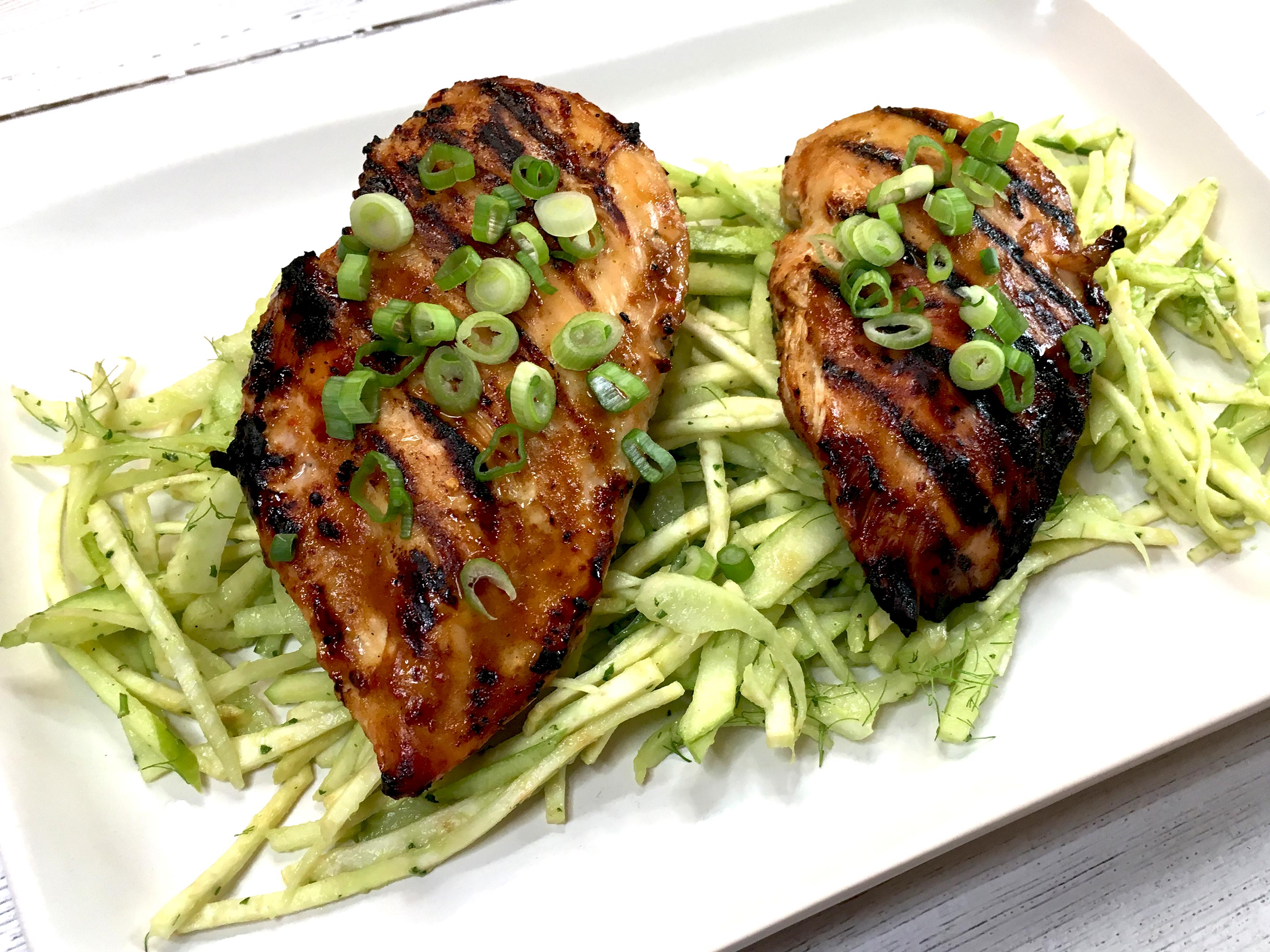 Prep Time

10 min

Cook Time

20 min

Total Time

30 min

Yield

6 servings
Ingredients
Teriyaki Sauce
1/2 cup orange juice (2 medium oranges)
4 pitted medjool dates, chopped
1 cup water
1/2 cup coconut aminos
2 tbsp rice vinegar
4 cloves garlic, chopped
1 tbsp chopped fresh ginger
1/2 tsp red pepper flakes
1 tbsp arrowroot
Grilled Chicken
6 boneless split chicken breasts
1/4 tsp sea salt
1/4 tsp ground black pepper
Preparation
Teriyaki Sauce
1
Pour orange juice in a blender.

Add the chopped dates and blend until smooth.

Add water, coconut aminos, vinegar, garlic, ginger and red pepper flake then blend until smooth.
Add arrowroot and pulse to combine.
Pour mixture into a saucepan and bring to a boil. 
Once boiling, lower the heat and simmer/reduce for approximately 10-15 minutes or until thick and syrupy.
Should render about 1 cup to 1-1/2 cups once reduced.
Keep sauce warm.
Grilled Chicken
2
Season the chicken breasts with salt and pepper.
Place 1/2 cup of the sauce in a bowl and let cool. The remaining sauce will be used for basting and serving.
Place the chicken in a container and cover with the 1/2 cup cooled sauce, turning the chicken over to completely coat.
Marinate for 15 minutes.
Oil the grates of the grill and heat to medium-high.
Grill the chicken for 4 minutes on each side. If you're unable to grill these outside, a stovetop grill pan works as well. 
Test the chicken for doneness with an instant read thermometer (internal temperature of 165 degrees F) or cut open to make sure the chicken is cooked through.
Remove from the grill, baste with additional reserved sauce, and let rest for 5 minutes before serving.
Note: